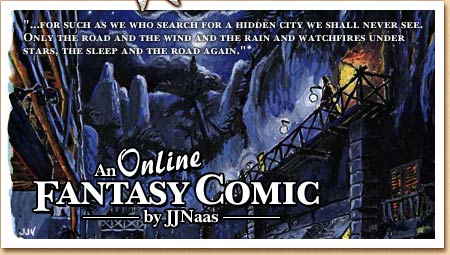 Having fled south into the free desert kingdoms Coen struggles to find a new life. He's not alone though; on the road he meets other people who share similar fates: two girls who've fled their family to study magic, a mysterious man with a twisted fate...

Desert Rocks is a fantasy "road trip" comic. How to travel from the Hidden Isles to the Eternal City of Tinaret with less than three Crowns a week - read Desert Rocks to find out!

18.04. -05 DR will go on hiatus again, until my other web comic is finished.
Desert Rocks is currently on hiatus.
Feedback is fuel for the online comics, so feel free to post your comments in my guestbook.

A forum dedicated to Desert Rocks can be found at Razortalk. Art and thoughts by me can also be viewed at DeviantART.

READ MY OTHER COMICS: Between Two Worlds
AND MY NEW COMIC:The Broken Mirror


Desert Rocks reviewed at Sequential Tart. (February 1, 2004)